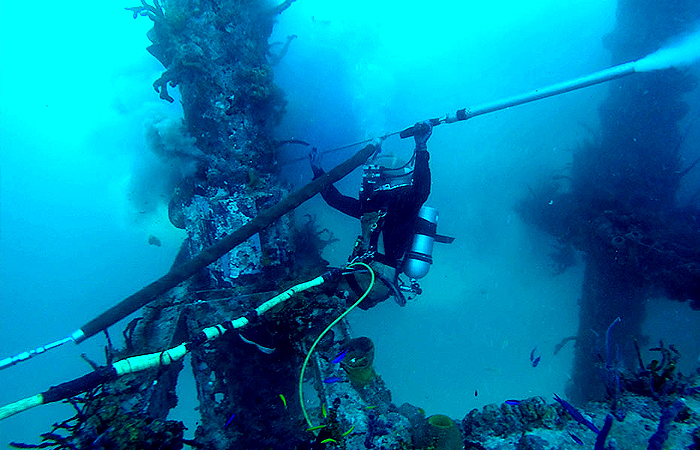 Under water maintenance Our High pressure equipment is also used for many Sub Sea maintenance projects.
Marine growth removal from Subsea pipelines, vessels hulls and pipe line refurbishment has been some of the projects where we have been involved in over the recent years.
Our high pressure pump units with a variety of accessories including divers retro guns have been widely used for the removal of marine growth.
We have been involved in internal cleaning of sea water intake systems when these internal pipelines have been heavily fouled with marine growth. Cleaning the internal of subsea pipe lines requires the use of a specialist pipe line cleaning system.
These sea water intake systems are vital for the process of water to be supplied throughout the refineries, oil and gas industries. Not only do they require the water for their process uses they also rely on the system to operate their fire water mainline systems.
Divers using our retro dive guns are working to maintain a multitude of offshore sub sea structures which require periodic inspections including SBM systems and there moorings. The use of underwater high pressure blasting can also be used in a controlled environment for pipe line weight coat removal projects. Here it is essential to inspect various pipeline components throughout the life of the pipelines. Weight coat is used as a concrete cover over the subsea pipelines and requires removal of the weight coat for inspections to be carried out.
On some of these projects we can arrange to supply an automated concrete demolition system to rapidly remove the weight coat.
Industries
We Serve
Marine industry offshore and onshore
Petrochemical oil and gas offshore and onshore
Construction industry – civil marine and oil and gas
Utilities and power generation industries
Subsea – maintenance and pipeline projects
Process Manufacturing Industries