Concrete hydro demolition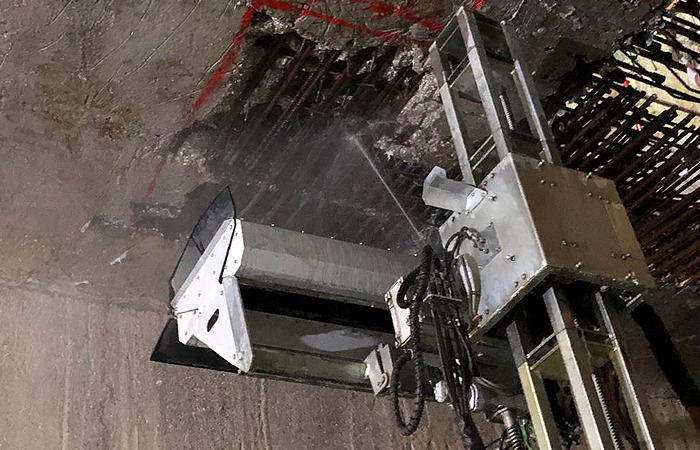 Hydroflow utilizes high pressure and ultra-high pressure water jetting to demolish concrete structures and to remove concrete on live pipe line without the risk of damage to the pipes or risk of fire due to zero sparks created at the impact point. The variable parameters of the technique (water pressure, jet size, speed and method of application) make it possible to remove concrete in a very precise and controlled way.
-The effectiveness of this method is due to three main reasons:
Direct impact of the water jet on the surface at high speed without vibration
Porous nature of concrete – the high pressure water is forced into the tiny cavities into the matrix of the concrete which dislodges the aggregates which then fall loose and cause the concrete to weaken and disintegrate without damaging the pipe.
The method can be used on the live pipeline due to no spark created and no vibration caused.
The hydro demolition process is utilized on concrete structures whereby the reinforcement must be retained and no damage sustained to the rebar and surrounding areas.  The process can be described as high pressure washing of the matrix (sand and cement) at Ultra high pressure (in this case 15,000 PSI to 32,000 PSI).
By washing the concrete through Ultra high pressure and flow it causes erosion of the matrix and the aggregates are displaced and removed. The reinforcement steel or sub surface pipe will not be affected by the hydro demolition process.
The reinforcement cage will remain in situ and will be cleaned by the hydro demolition process. Loose reinforcement maybe displaced from the original position but this can be returned to the correct position prior to concrete pour.
Industries
We Serve
Marine industry offshore and onshore
Petrochemical oil and gas offshore and onshore
Construction industry – civil marine and oil and gas
Utilities and power generation industries
Subsea – maintenance and pipeline projects
Process Manufacturing Industries