Pipe work cleaning and flushing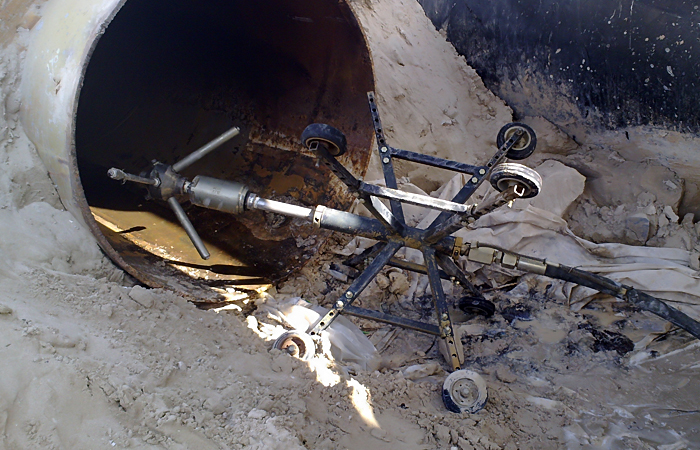 Since 2004 , Hydroflow Pump Rentals have been heavily involved in Pre commissioning of Oil and Gas Modules, Steam Generator plant commissioning, FPSO commissioning of modules and refurbishment and cleaning of pipe lines. Pre-operational cleaning of piping using only high pressure water prior to plant start-up operations has proven a time saving operation with all our clients to date.
Hydroflow can offer a variety of work packages including, Rentals of equipment with our technicians, full turnkey projects, assistance with the onsite commissioning teams.
Duration of commissioning has been reduced with reduced steam blowing, quality assurance procedures achieved ahead of schedule to clients and handover of a clean and tested pipe system ready for use on start up for the end user.
Industry-leading technology, specialized pipe cleaning expertise and Middle East operational experience will add significant value to your projects having contributed to major improvements on start-up projects helping our Clients through:
Receiving superior pipe cleaning quality
Reducing the duration of steam-blows
Accelerating the plant start-up
Eliminating chemicals
Reducing significantly start-up project cost
Descaling of pipe systems
Removal of construction debris
The Rotary Pipe cleaning method can clean piping in sizes from 75mm to 2m in diameter.
Pipe access points can be made through drain points as small as 50mm, or open flanges and rolled valves in the piping to introduce the specialist nozzle heads we use. Utilizing a single access point, piping up to 200m in length can be cleaned dependent on the pipe system configuration with further distances being achievable on select pipeline configurations.
We can negotiate bends and a variety of valves (subject to type) to eliminate costly time consuming removals of pipe spools and valve types.
Industries
We Serve
Marine industry offshore and onshore
Petrochemical oil and gas offshore and onshore
Construction industry – civil marine and oil and gas
Utilities and power generation industries
Subsea – maintenance and pipeline projects
Process Manufacturing Industries