Pre – commissioning cleaning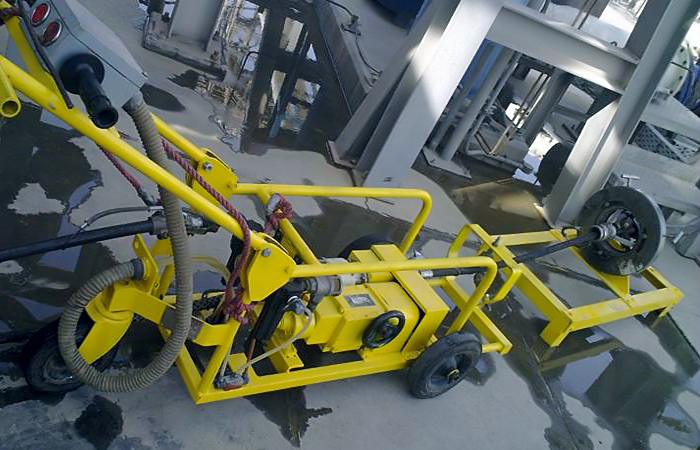 Pre-commissioning cleaning is the essential process required by most Oil & Gas plants prior to starting up of a new plant or system. The process usually entails the cleaning of a completed system or specific loop by utilizing the following two methods of Aqua milling or High volume flushing to remove debris from the lines such as China Black, Rust, Scale, sand, loose items such as welding rods, ropes, etc. which may be remaining in the line.
When the Aqua Milling technique is used for the cleaning of pipe systems, this entails fitting a static cleaning nozzle on the end of a high pressure hose which is rotated using a Rotating Hose Device (RDR) unit. The high pressure swivel seal allows rotational speeds from 1rpm up to 180rpm.
The nozzle jets are specially configured to ensure the nozzle stand-off distance from the pipe internal surface is kept constant, and the hose rotational speed is set to ensure the optimum water-jet dwell time is achieved to clean the hardest scales and debris requiring removal from the pipe surface.
High volume flushing or Retro jetting is utilized when you have limited access and Aqua milling is not an option. Through the use of self-rotating specialist nozzles, the pipeline is cleaned through multiple passed by running the nozzle through sections of the line at a time. The nozzle configuration is done in such a manner that the majority of the flow is concentrated to the rear jets of the nozzle to assist in pulling the nozzle through the line and the same rear jets are utilized to flush out the debris during the retrieval of the nozzle.
This cleaning system can feed a hose up to 1500 feet (250 to 300 meters) into a pipe system but unlike the Aqua milling system, is heavily restricted by the number of bends in a line due to the hose friction caused.
Industries
We Serve
Marine industry offshore and onshore
Petrochemical oil and gas offshore and onshore
Construction industry – civil marine and oil and gas
Utilities and power generation industries
Subsea – maintenance and pipeline projects
Process Manufacturing Industries