Ultra high pressure (UHP) surface preparation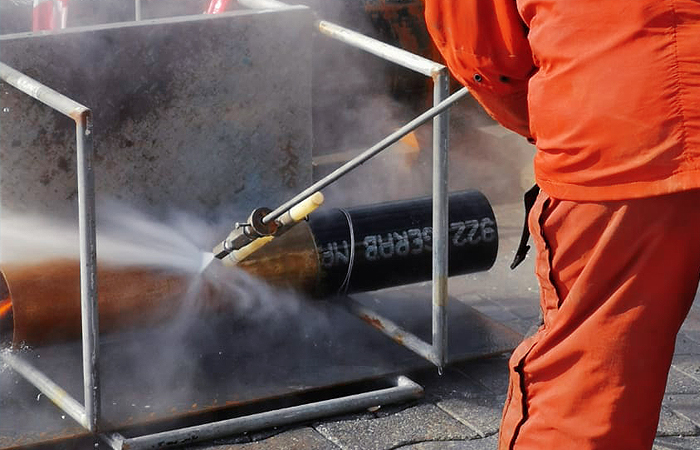 Hydroflow supply our UHP pump units to rental clients and our own customers to undertake UHP blasting for coating removals and surface preparation for new coating applications.
When it comes to the surface preparation requirements to our clients who are predominately working in the refurbishment and coating industries we supply our UHP pump units with a variety of accessories.
These uhp pump units and accessories are designed to undertake the removal of paint and coating systems from ship hulls and decks, tank floors, heli decks, flight decks, drilling platforms, oil and gas facilities both on and offshore, tanks and vessels. Practically all steel surfaces that have been previously blast prepared and coated with a protective cover.
UHP blasting has been in use since the early 1990's with high pressure pump manufacturers and coating suppliers being at the forefront of the industry. The UHP systems are designed to remove coatings off existing structures.
The paint and coatings manufacturers realized the potential of the UHP systems at an early stage due to the capability of the UHP water jets being able to remove damaged existing coatings to a standard as good as a SA 2.5 and SA 3 Blasted surface.
Grit blasting causes a multitude of additional problems and costs to the client and the environment due to difficult containment of dust and grit which can find its way into expensive equipment.
Further to above it was also discovered that UHP Blasting washed away hidden salt residues from the steel surface which grit blasting was locking back into the steel due to the impact of the grit effectively opening and closing the steel surfaces being prepared.
The above discovery was one of the main reasons why coating companies around the world started to promote UHP blasting ahead of the time honored grit blasting surface preparation systems.
The down side of UHP blasting was the fact the UHP water cannot prepare a steel surface which has not been previously blasted using impact systems such as grit and abrasive blast materials.
Refurbishment of steel surfaces already prepared by abrasives is the area of most use of UHP systems.
Here Hydroflow offer a variety of accessories to undertake surface preparation work.
Included in our accessories are walk behind Deck blasting equipment, robotic equipment and hand held UHP guns.
Each of our Hydroflow UHP accessories are used for a variety of surface preparation projects, with hand held rotary guns, offering comparable results in quantities of preparation as that of grit blasting nozzles with up wards of 9m sq per hour. Our deck blasters with an average of 25 m sq per hour are ideal for larger surface preparation. Our Robotic equipment can achieve twice that of the deck blaster with 50 sq m per hour achievable.
Additionally we use our UHP units for tube cleaning, cold cutting of steel and concrete.
Industries
We Serve
Marine industry offshore and onshore
Petrochemical oil and gas offshore and onshore
Construction industry – civil marine and oil and gas
Utilities and power generation industries
Subsea – maintenance and pipeline projects
Process Manufacturing Industries