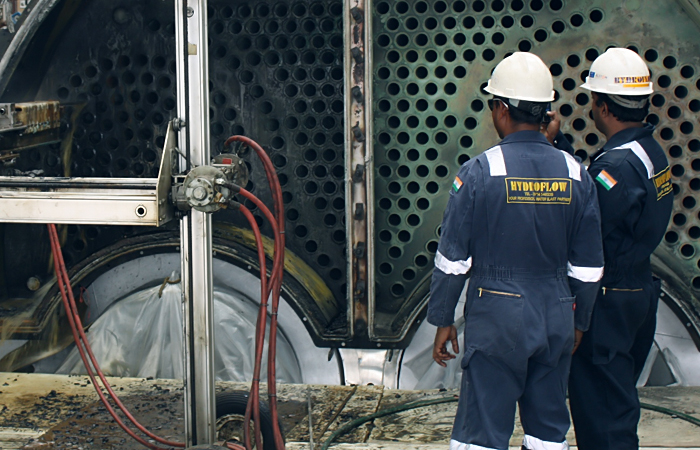 Hydroflow is able to offer our specialist services for boiler tube cleaning through both automated and manual systems utilizing pressure between 15,000psi to 36,000psi to perform the cleaning.
Through the use of specialized self-rotating tube cleaning nozzles and high pressure flexible lances, we are able to effectively and safely clean the tubes of the boiler manually.
Utilizing our automated ridged lance system, we can optimize the use of both pressure and flow by having a controlled pass through the tubes. We are also able to keep the nozzle in a fixed position at any blockage without any concern for back pressure build up. The nozzle can also be adjusted to allow for maximum cutting efficiency by changing the configuration to match the cleaning requirement.
By utilizing a controlled system you not only eliminate the need for multiple passes, the cleaning is more efficient and you eliminate any safety risk for the operator of the nozzle being forced out of the tube due to buildup of back pressure.
Hydroflow can also offer the automated internal cleaning of the boilers utilizing our 3D nozzles to eliminate any man entry and confined space work.
Industries
We Serve
Marine industry offshore and onshore
Petrochemical oil and gas offshore and onshore
Construction industry – civil marine and oil and gas
Utilities and power generation industries
Subsea – maintenance and pipeline projects
Process Manufacturing Industries